Traveling Together with Guangming, OFILM Attended Investment Environment Promotion Conference of Guangming as per Invitation
Release time:2018-04-28
'OFILM was born and raised at Guangming New District. Guangming New District had made OFILM and witnessed OFILM's development from a company with over 300 employees to a corporate valued more than 50 billion yuan.' In the afternoon on April 19th, CAI Gaoxiao, director and senior vice president of OFILM, gave speech under the topic of 'After witnessing the development of each other, Guangming and OFILM partnered to win' representing OFILM, which was the only corporate invited to present at the conference.
The topic of this conference was 'Setting out at the new starting point, applying a new engine and bearing a new vision, by which we picture the blueprint for four cities and two districts and unite together to begin a new chapter.' Leaders of relevant municipal functional departments, excellent entrepreneurs, famous experts and scholars, business associations and organizations, institutional investors, representatives of industrial parks and the media…about 700 people attended this conference, which made it to be the conference of the highest level, the largest scale and the richest achievements in recent years.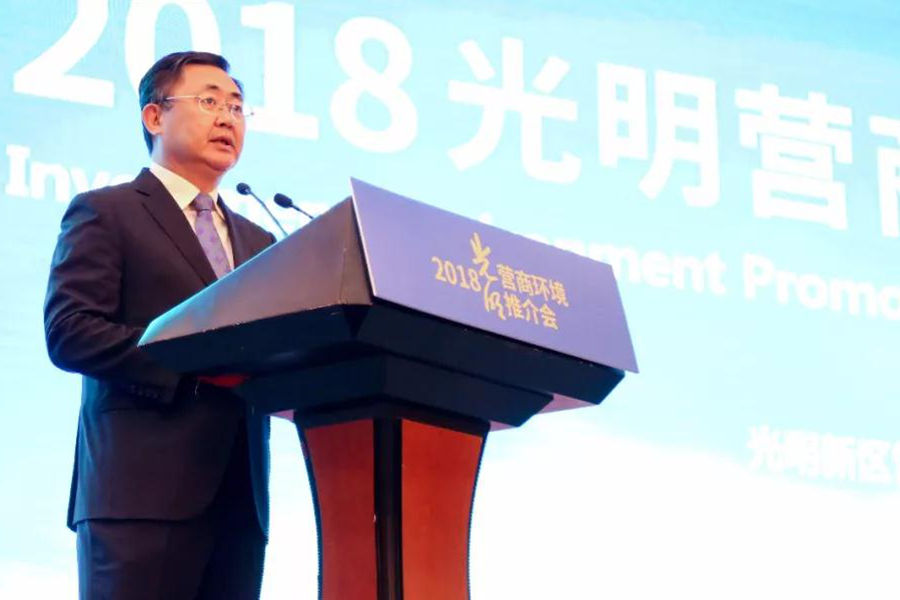 WANG Hongbin, the Secretary of Guangming New District's Party Working Committee, was Giving Speech
WANG Hongbin, the Secretary of Guangming New District's Party Working Committee, stated in his speech that O–film and some other prospective corporates had sprung up and became a brilliant name card of Guangming New District in recent years. As the only corporate to give speech during this conference, it was obvious that OFILM holds the balance at Guangming New District.
OFILM's business was started up in Shenzhen, as well as its dreams were achieved here.  During the guest speech section, CAI Gaoxiao, ZHANG Jingan(Chairman of China National High-Tech Industrial Development Zone Association, President of China Society of Scientific Reform) and MU Rongping(Secretary of Institutes of Science and Development, Chinese Academy of Sciences, Director of The Center for Innovation and Development of CAS), etc. shared their opinions about Guangming New District's new development opportunities, new industrial development trend & strategic choices and strategic plans of corporate's development in new economic era.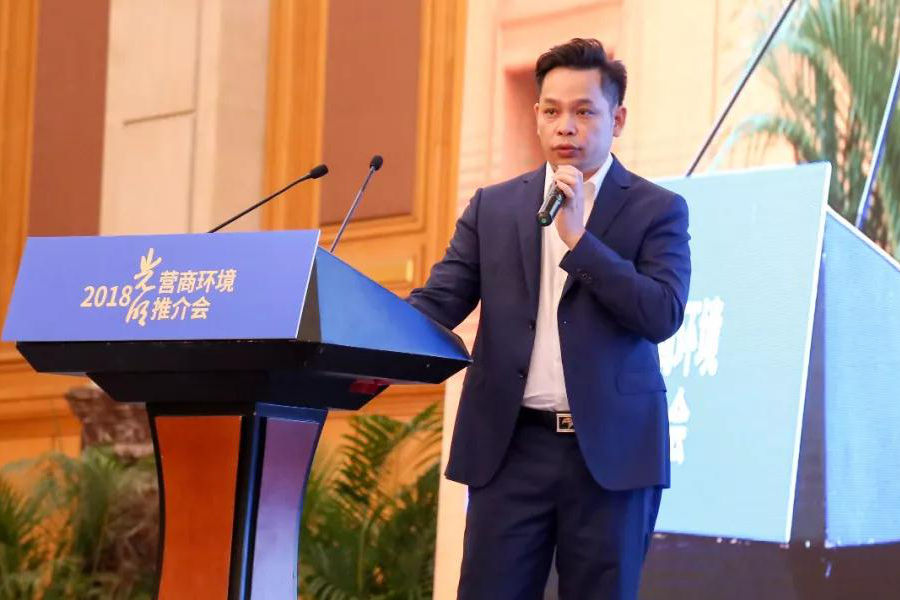 CAI Gaoxiao was sharing OFILM's development and future plan at the conference
'OFILM developed consumer electronics and automotive electronics as two pillars of businesses. With over 33.8 billion yuan of annual operating revenue, our company was listed in China's Top 100 Electronic Information Enterprises in successive 5 years and came in the 28th place in 2017. Meanwhile, OFILM was one among Forbes Asia Pacific Top 50 Listed Companies and came in the 234th place of Year 2017 Fortune China Top 500 List.' CAI Gaoxiao said, during OFILM's development, our company was supported by Guangming New District with various economic development policies. In each development stage of corporates, Guangming New District Government offers perfect support of policies.
During these ten-years of development, Guangming New District had witnessed OFILM's transition and growth, while OFILM didn't fail to live up to the expectation of the District's leaders, we continuously made breakthroughs and challenged ourselves, and stepped from manufacture towards intelligent manufacture. Our company's growth path happened to coincide with the opinion of Mu Rongping, who is the secretary of Institutes of Science and Development, Chinese Academy of Sciences. He thought, in recent years, Chinese high-end industries had been developing rapidly, while they were gradually developing from the form of manufacture to intelligent manufacture. The breakthroughs on edged technologies will lead the development of emerging technologies. Both intelligent manufacture and green intelligent automotive manufacture will be the focus point in the future, while these are also the focuses of development for OFILM in the upcoming 5 years.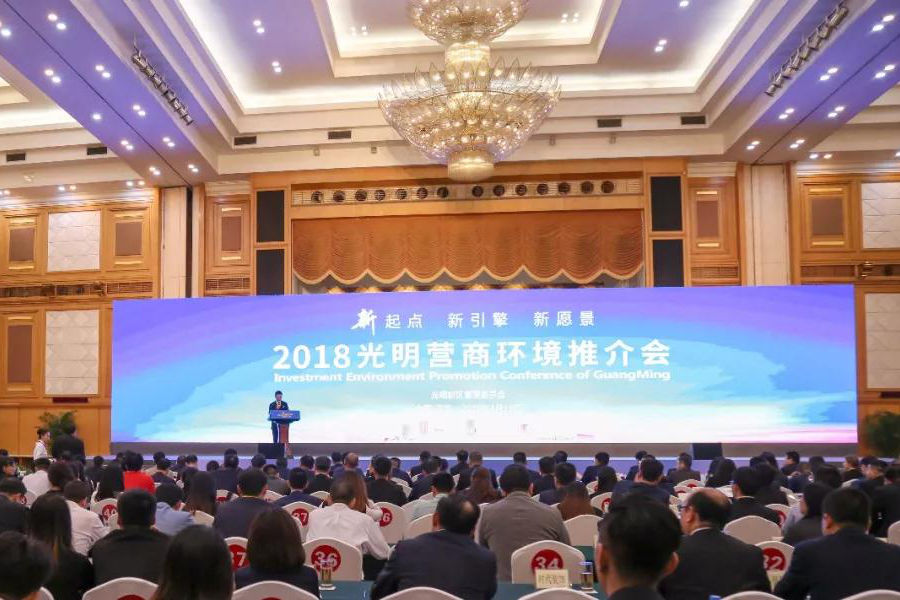 How would OFILM face the challenges in the future? CAI Gaoxiao stated at the conference, OFILM started the transition since 2017, to transform from a worldwide leading technological corporate of components to become a systematically high-technological corporate with AI visual effect, biometric identification, human-computer interaction, new display and other technologies through extending to and integrating with the upstream materials and components. We will develop through the path of materials to components to overall units to platforms, continuously increase the investment in research and development, layout our research and development centers in the worldwide and hire top expert talent teams and technical cadres, so that we continuously improve our R&D capability and independent innovation ability. Moreover, we will build up the largest optical R&D base in Asia in the upcoming a few years.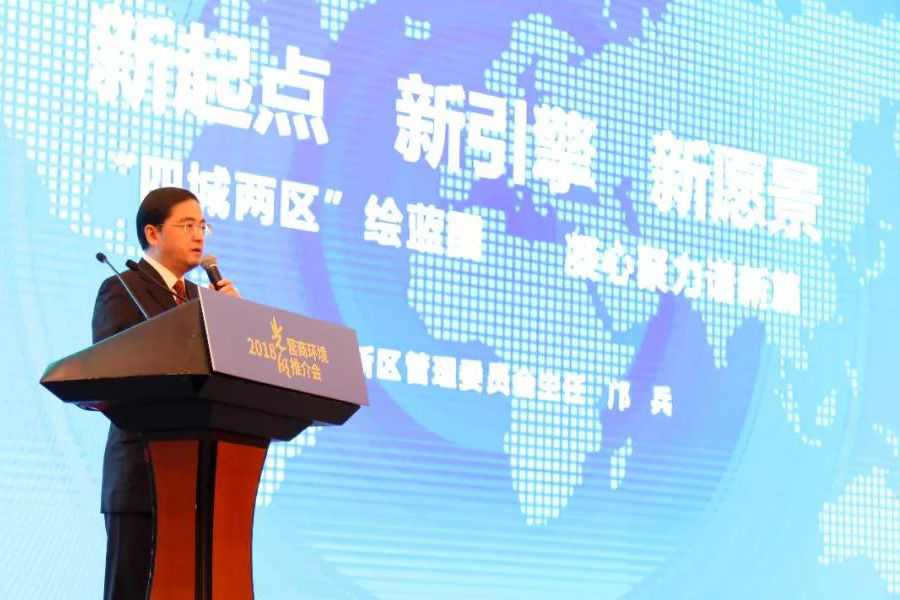 KUANG Bing (Director of Guangming New District Administrative Committee) was giving speech
The government places great expectation on OFILM's development. KUANG Bing (Director of Guangming New District Administrative Committee) stated, relying on leading enterprises like OFILM and BTR, the government will accelerate the construction of state-level innovation centers of manufacture industries such as new display, and focus on developing the emerging industry of new-generation information technology, new materials, AI, etc., so that build a modern industrial pattern with distinctive features, integrated development, prominent advantages and leading innovative ideas.

As a corporate with core competence in mobile interconnection industry, OFILM will continuously invest in R&D as always, as well as continuously expand our business to lead the development of the industry in the future. In the next stage, OFILM will deepen the collaboration in the field of intelligent manufacture and so on under the leadership of Guangming New District Government, in this way we contribute to the development of the district.
BACK