The business entity of CCM business unit is Nanchang O-film Photoelectric Technology Co. LTD which is established in October 2012. We have been focusing on the design and manufacturing of multi-functional high-precision micro photoelectric sensing camera module (CMOS Camera Module) and providing global customers with various kinds of new portable image equipment and a full range of quality-driven ODM services.
CMOS Camera Module is a core component of various new portable image equipment, which is composed of sensor, lens, VCM (voice coil motor), FPC (flexible printed circuit) and connector, etc. It is mainly applied to mobile phones, notebook computers, tablet computers, smart home, wearable devices, automobiles, VR/AR and security monitoring fields and so on. Compared with traditional image pickup systems, CMOS Camera Module has many advantages such as miniaturization, low power consumption, low cost, high image quality, etc.
The CCM business unit has excellent R&D, manufacturing and quality assurance teams. With professionals and technologies that have been accumulated over years, the business unit can offer products with pixel ranges from 3 million to 23 million. Having a quality assurance system, R&D capability, automatic production equipments and technical capabilities, it helps customers with the differentiated design and production solutions of different products like FF products (fixed focus), AF products (auto-focus), PDAF (phase detection auto-focus), OIS (Optical Image Stabilization), and dual-camera products etc.
The CCM business unit has adopted high-precision integrated automation solutions from Germany, Japan, and South Korea etc.. And product quality and stability were greatly improved with highly automatic production mode covering key processes such as packaging, checking and testing. Besides, we strictly executed a complete quality assurance system approved by world class factories in order to provide customers with image modules of the best quality.
Currently, the CCM business unit has already established long-term strategic cooperative relationships with numerous domestic and foreign mobile-phone brands including Huawei, Xiaomi, Lenovo, Gionne, OPPO, Vivo, Samsung, and Motorola, etc. and carried out comprehensive strategic cooperation with mobile platform programme suppliers like Qualcomm and MTK. We can complete the debugging of image effects of customized camera modules in the very first place and cooperate with customers to seize the market opportunities.
Achievements
In October 2012, Nanchang O-film Photoelectric Technology Co. Limited was established.
R&D centers were set up in America, Japan, Taiwan and South Korea, possessed core technologies in optical design, MEMS, image processing and software algorithm, .
In May 2014, we successfully merged DOC company of America and mastered the technology of MEMS that would be used in camera modules in the future.
In March 2015, the domestic advanced professional imaging technology evaluation center was set up.
In 2015, the annual shipment amount reached 0.2 billion (the global market share was 8.1 percent).
In 2016, automatic production lines were put into use in full range.
In 2016, successively invest in and cooperate with leading imaging technology companies in America, Israel and Europe to develop core technologies for the prosperous development of imaging.
In 2016, completed the development and mass production of the AA mounting equipment with 6 fully automatic optical axis used in dual camera modules and owns the completely independent intellectual property rights.
In 2016, completed the development, standardization and certification of heterogeneous dual cameras in black and white, as well as dual cameras with depth of field at different pixels in the first place.
In 2016, completed the development and mass production of high-precision dual cameras with different base plates and common base plate,.
Development Trend
3D and dual cameras have vast prospects for development and will be extensively applied in mobile phones, VR/AR, automobiles, etc;
There are increasing demands for the application of wide shots, 180 degrees fisheye and 360 degrees surround view video cameras to smart home and security monitoring;
There are increasing demands for microminiature packaging modules with low power consumption in wearable cameras and motion cameras.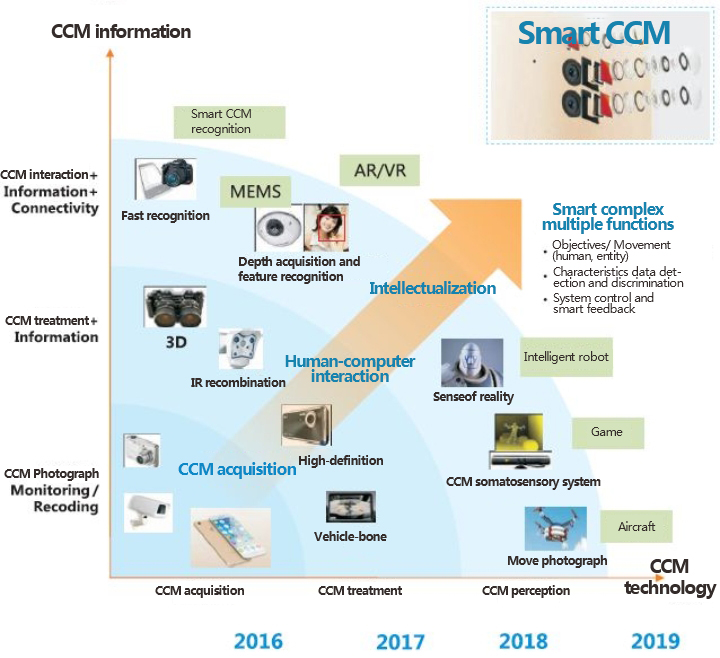 R&D Ability
The CCM business unit has set up 5 R&D centers in Nanchang, Taiwan, South Korea, Japan and America.
Having hundreds of excellent engineers, the R&D center in Nanchang has set up a project team which is responsible for the development of custom-made software and hardware in mainstream products. The sample can be designed and delivered in a short time, catering to customers' needs of rapid development and listing of products. At the same time, the center has set up a R&D team which is responsible for the development of automation equipment, production of special products and commercialized development ; the R&D center in Taiwan is responsible for the development and optimization of MEMS motor, the development of advanced AA packaging technology and its related algorithm; the R&D centers in Japan and South Korea are responsible for design and development of special lens, as well as the development and research of the algorithm of advanced image processing technology; the R&D center in America is responsible for optimized design of MEMS motor, the development and research of semiconductor technology, as well as the research, development and cultivation of various innovative products in the future.
Product Application
360 degrees surround view

Optical testing laboratory

Color testing laboratory

Iris recognition

Facial recognition

Gesture recognition
BACK