By Striving Together and Developing Jointly, OFILM Helped the Ethnic Minorities with Poverty Alleviation
Release time:2018-03-26
To enhance the effective communication with minority employees and facilitate its development of the national solidarity activities, OFILM held a meeting under the topic of national unity at Nanchang #1 Park on Feb. 11th. The chairman CAI Rongjun, together with the core management, members of school-enterprise cooperation onsite working group and representatives of Xinjiang ethnic minority employees sat around to discuss the direction and mode of school-enterprise cooperation.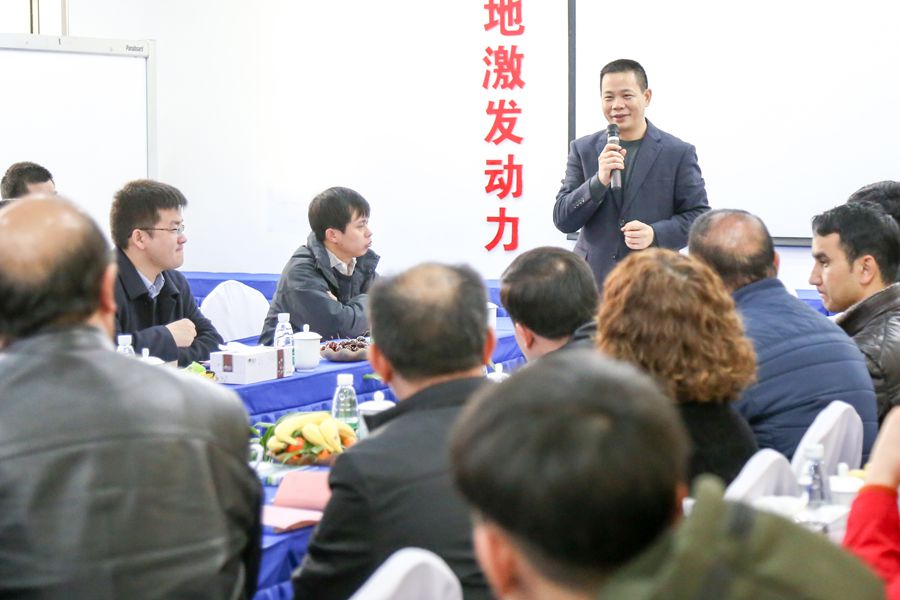 The chairman requested business units to organize diverse new-year activities for minority employees
In the past a few years, OFILM answered the government's call, went to the northwestern area and recruited a large amount of ethnic minority employees. This action practically helped low income employees to alleviate poverty and carried out the corporate social responsibility while developing. In 2017, OFILM inducted a group of Xinjiang ethnic minority employees. The chairman was concerned about how they lived and worked in the past year. 'During the spring festival, the relevant departments should organize an abundant amount of colorful activities to delight and entertain our employees.' The chairman said, the school-enterprise cooperation between OFILM and Xinjiang Hetian is of deep significance, this prominently embodies in helping the local people to alleviate poverty and increase income. Secondly, through receiving modern vocational education, the comprehensive literacy of minority employees is improved, which enables them to further develop in career path. Thirdly, this is a model for other corporates to cooperate with the local, thereby improving the employment rate of local people.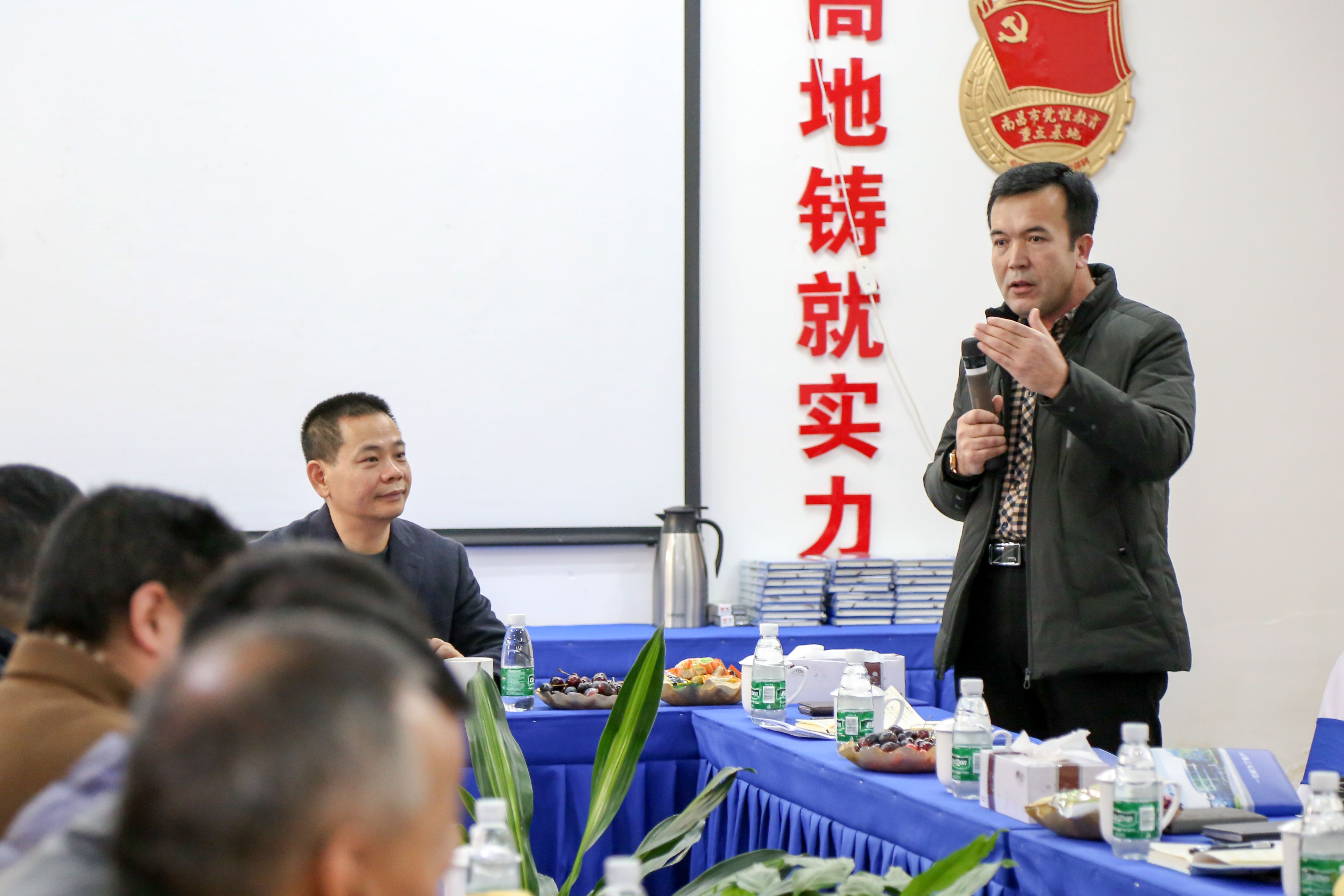 The head of Hetian Education Bureau appreciated OFILM
The head of Hetian Education Bureau, Mehmet Abdullah was satisfied with the cooperation with OFILM. He said, deepening the collaboration between industry and education, and pushing the school-enterprise cooperation is necessary for developing vocational education. In this time, over 80% of Hetian students were from needy family. Working in OFILM not only provided students with positions for professional practice, but also helped to achieve the goal of shaking off poverty. In the process of cooperation with OFILM, the two parties formed an effective management mode of school-enterprise cooperation, which laid the foundation for the deeper henceforth collaboration between both sides.
Mokhtar concluded experiences generated in the process of cooperation
Mokhtar, director of the County People's Congress of Luopu, Hetian, said that 'the biggest obstacle students encountered as working in OFILM is the language barrier. To solve this problem, the onsite working group and the company specially set up Chinese classes to train the students for fundamental language skills. Currently, they've achieved obvious improvement on their Chinese language level, while reached a comparably high level of efficiency and yield.'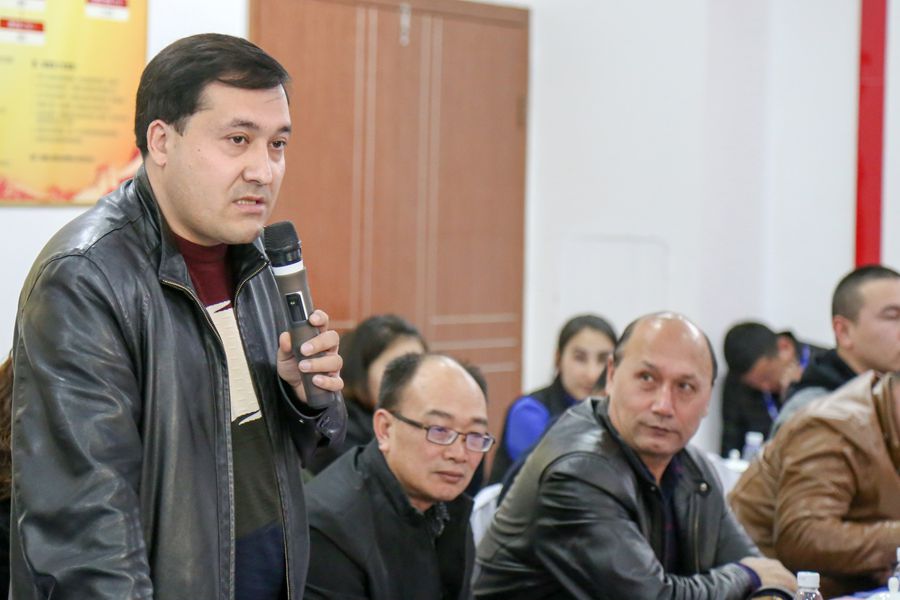 Ablikim encouraged students to work hard to improve their capability
The onsite working teacher Ablikim encouraged students at the meeting. He said, completing a task needs more teamwork ability than personal skills, so everyone had better learn to communicate at work and work hard to improve capability. With precious experience gained from work, you should aim at becoming technical talents.'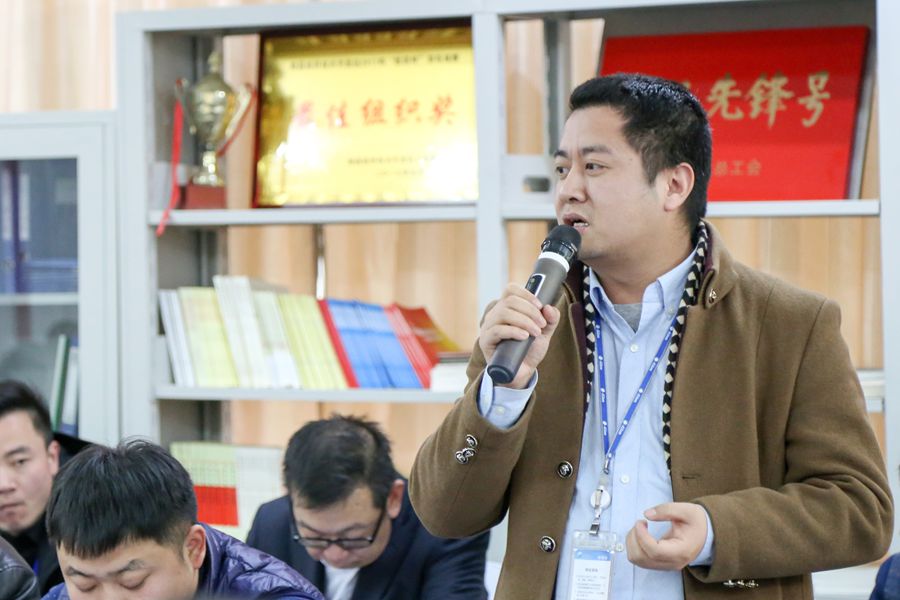 LIAO Shenghuan gave a speech
In order to integrate these recruits into OFILM swiftly, in 2017, every business unit gave various means of training to improve their comprehensive literacy, such as offering basic Chinese language education, nations unity & history education, safety in production education and holding enjoyable cultural and athletic activities.
The achievements of training activities were obvious. For example, there were not a few ethnic minority employees awarded at the Year 2017 LCM BU commendatory conference. LIAO Shenghuan, the vice general manager of LCM BU said, through run-in, exercising and improving, the efficiency of minority employees had increased a lot. In the last year, we elected over 10 outstanding team leaders among them, which stimulated other employees' motivation.
The representative of ethnic minority employees gave a speech
OFILM's 'nations unity' work was recognized by the onsite working group and students, ethnic minority employees' efficiency increased steadily. The chairman encouraged and supported these students to stay at their jobs here and expected to continue and deepen the cooperation between the two sides. In the future, how would OFILM push this program to develop deeper, wider and more enduring?
He proposed points of expectation and requirement to the school-enterprise cooperation work. Firstly, OFILM needs to prioritize the corporate culture education. By inputting corporate culture, knowledge and techniques into school, we enable students to gradually know OFILM and integrate into the workplace. Secondly, we need to unblock the appeal channels. It is inevitable that minority employees feeling unadaptable to the life and work environment as they come to work here. Therefore, the management team should coordinate resources to provide and create better living and working environment for them and unblock the communication and appeal channels to solve problems practically. Thirdly, we need to increase the intensity on training. In 2018, OFILM will further enhance the internal talent pool construction and form core competence with a large number of 'rock' talents. The OFILM academy, as an organization taking this responsibility, will elect excellent workers, including minority employees, train them systematically to improve their technical and managerial skills, thereby fostering them into competitive professionals.
OFILM has an unshirkable duty on carrying out social responsibility.
To help the minority people get employed and alleviated from poverty is the desire and goal of OFILM's management team. OFILM will deepen the collaboration with relevant authorities of Hetian, Xinjiang, to build a model for school-enterprise cooperation and spread it over the country, so that helping more needy families to a employment.
BACK